From Bloomberg
By
29, 2016 — 4:44 AM EDT
http://www.bloomberg.com/news/articles/2016-06-29/abenomics-brings-salarymen-no-relief-as-wives-limit-allowances

Japan's long-suffering salaried workers, famous for toiling prolonged hours, have found no relief under the Abenomics reflation program, recording two of the three worst years when it comes to their monthly pocket money.
Pocket money, often set by wives who in Japan control family budgets, in 2016 stood at 37,873 yen ($370) per month on average, the third-lowest level since the survey started in 1979, according to Shinsei Bank Ltd., a Tokyo-based lender. Last year was the second-lowest monthly amount; the worst year was 1982.
Salaried workers are spending less on lunch as Prime Minister Shinzo Abe's attempts to revive and reinflate the economy are failing to benefit them. It's hard for Japanese men to improve their spending negotiations on the home front with no prospects for solid wage growth, as a strong yen will probably reduce corporate profits, said Koya Miyamae, an economist at SMBC Nikko Securities Inc.
"Japanese men's allowance is the easiest and first thing to be cut by wives," said Miyamae, who has personal experience with this, saying he hasn't seen his allowance rise for several years. "There won't be any good news coming for men's allowance in the near future."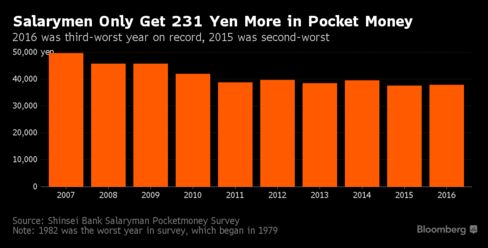 As a result of the meager gains, salarymen cut spending for lunch by 2.3 percent to 587 yen — this was cited in the survey as the most popular way to save money. Meanwhile, women surveyed said their spending on lunch rose 1.2 percent to 674 yen.
Middle-aged men saw the biggest reductions. While allowances for men in their 20s rose, those for salary men in their 30s and 40s declined.
Katsunori Hayano, a 42-year-old delivery man, said his allowance had gone down. "The economy is bad, and my salary went down. Now I can't enjoy myself, and I spend my days off at home."
One man interviewed Wednesday said tepid inflation is helping him accept a flat spending budget, in a sign of deflationary mindset that BOJ Governor Haruhiko Kuroda is struggling to change.
"It hasn't affected my daily life," said Kohei Oyama, a 46-year-old architect who said his allowance didn't change over the past year. "You have cheap stores like Uniqlo, and prices may be going down, so it's not that bad."
The survey was conducted from April 8 to April 13, and surveyed 2,352 people.